No flights the last few nights due to unfavorable weather, but the internet (the cool parts of it anyway) is somewhat abuzz with the image and video I put up with the last post. This has taken off a bit more than I thought it would.
Universe Today
and
Spaceweather.com
were expected, but now more mainstream media is jumping on board. I'm going to use this post to archive some of the articles, beware that below the page break lies a bunch of copypaste from news sites. And if you know of one I'm missing, please comment or send it to me.
_____________________________________________
Universe Today (the first to run it):
Mysterious red sprite lightning is intriguing: sprites occur only at high altitudes above thunderstorms, only last for a thousandth of a second and emit light in the red portion of the visible spectrum. Therefore, studying sprites has been notoriously difficult for atmospheric scientists. Astrophotographer Jason Ahrns has had the chance to be part of a sprite observing campaign, and with a special airplane from the National Center for Atmospheric Research's Research Aircraft Facility in Boulder, Colorado, has been on flights to try and observe red sprite lightning from the air.
Jason had some success on a recent flight, and was able to capture a sprite (above) on high speed film. Below you can see a movie of it at 10,000 frames per second:
Scientists say that while sprites have likely occurred on Earth for millions of years, they were first discovered and documented only by accident in 1989 when a researcher studying stars was calibrating a camera pointed at the distant atmosphere where sprites occur.
Sprites usually appear as several clusters of red tendrils above a lighting flash followed by a breakup into smaller streaks. The brightest region of a sprite is typically seen at altitudes of 65-75 km (40-45 miles), but often as high as 90 km (55 miles) into the atmosphere.
Some of the latest research shows that only a specific type of lightning is the trigger that initiates sprites aloft.
You can read more (and see more images) about Jason's experiences with sprites at his website.


Read more: http://www.universetoday.com/103969/watch-sprite-lightning-flash-at-10000-frames-per-second/#ixzz2bNivWHIi
_____________________________________________
Spaceweather.com:
SPRITES AND JETS OVER OKLAHOMA CITY: High above Earth in the realm of meteors and noctilucent clouds, a strange form of lightning dances at the edge of space. Researchers call the bolts "sprites," and they are as beautiful as they are mysterious. Jason Ahrns, a graduate student from the University of Alaska Fairbanks, photographed a cluster of bright red sprites over Oklahoma City on August 6th. Click on the arrow to view a rare high-speed movie of the phenomenon: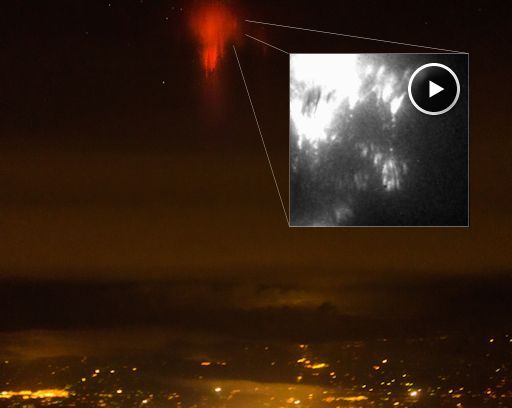 "I normally study auroras," says Ahrns, "but I've become involved in sprites as a side interest." At the time of the photo, Ahrns was flying onboard a Gulfstream V operated by the National Center for Atmospheric Research (NCAR). "We try to get off to the side of sprite-producing storms, ideally about 200 km away, and film them with a couple of Phantom cameras running at 10,000 frames per second. One of the Phantoms has a diffraction grating in front of it to capture high speed spectra, which I don't think has ever been done before."
"We've also managed to record a few sprites over a lightning mapping array so we can identify the exact lightning strike that caused the sprite," he continues. "This has also never done before, and should provide insight into what type of lightning causes sprites."
"Lately," says Ahrns, "I've begun slipping my personal camera into a spare window of the airplane, and the results have been so impressive that we're planning to make a dSLR (digital camera) a regular part of future campaigns. On August 3rd I recorded some blue jets over Oklahoma city; I believe these are the first blue jets recorded by an ordinary dSLR." More tales of sprite-chasing may be found on Ahrns' personal blog.
_____________________________________________
Huffington Post:
Sprite Lightning Caught On High-Speed Film Shows Mysterious Phenomena In Amazing Detail (VIDEO)
Sprite lightning is a mysterious phenomenon and by its very nature is extremely difficult to study but not one but two have been captured on film recently.
The flashes only occurs at very high altitudes above thunderstorms and last only for a fraction of a second.
And they're also red and a weird carrot-esque shape.
This was then surpassed in quality by this 10,000 frames per second super high-speed film of a burst over the skies of Boulder, Colorado.
Despite being nearly as old as the Earth itself, sprite lightning was only discovered by accident in 1989.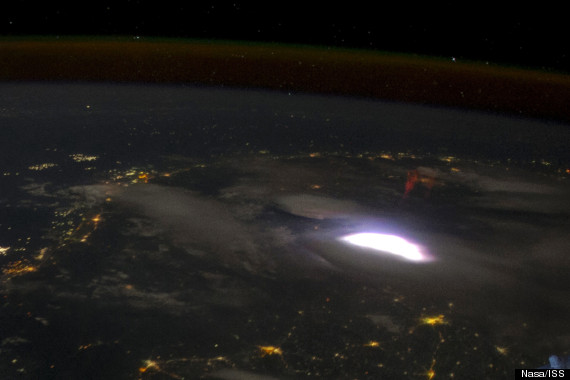 Sprite lightning as seen from the International Space Station
This then creates the conditions for the sprite's charge to form.
_________________________
Rare sprite lightning caught on camera
Footage captured by a US astrophotographer while flying over Colorado shows the phenomenon known as sprite lightning, which occurs above thunderstorms.
A US astrophotographer flying in a specially modified research aircraft above a storm in Colorado captured footage of the rare phenomenon known as sprite lightning.
Jason Ahrns was aboard a plane belonging to the National Center for Atmospheric Research when he took the images using special high speed film.
Sprite lightning is defined as large electrical discharges that occur above thunderstorms. Coloured red or blue, they last just a thousandth of a second, and came come in a variety of shapes, sometimes resembling jellyfish-like blobs and at other times carrots or columns.
Researcher captures elusive lightning sprites on camera
Hunting the Elusive Red Lightning Above Oklahoma City
Sprites! Rare red lightning photographed on atmospheric research mission
Sprites: A Rarely Seen Sky Phenomenon Caught On Camera
Unusual atmospheric electrical discharges seen over Oklahoma
Massive Electrical Discharges Above T-Storms Captured With Incredibly High Speed Imaging! You Have To See This!