It doesn't get very dark anymore, and soon it won't at all, so aurora season is pretty much over (though
noctilucent cloud
season is coming, and I've never seen one of those!). Combined with end-of-semester projects and I haven't had much to write here. The semester will be over in three weeks, though, so I expect the posting frequency to increase substantially at that point. And spring is here, so it's been perfect weather for outdoor activities (highs of 50-60ºF).
It's Earth Day, so for now, how about some photos from my trip to Denali National Park last Sunday? The park road is currently open to private vehicles as far as mile 30 (that'll change to mile 15 when tourist season starts), and you can go further under human power. I made it to mile 36, two miles from the top of Sable Pass, via bicycle. I saw 4 other people the whole time in the park; 2 of them were in cars on the park road, and the other two were walking a dog within a mile of the road closure. Past there it was pure solitude.
The mountain in the background, poking up through the clouds, is Denali. It's tall.
The first bear of the season was sighted on Tuesday at Polychrome Pass. The crew working on plowing the road snapped this picture.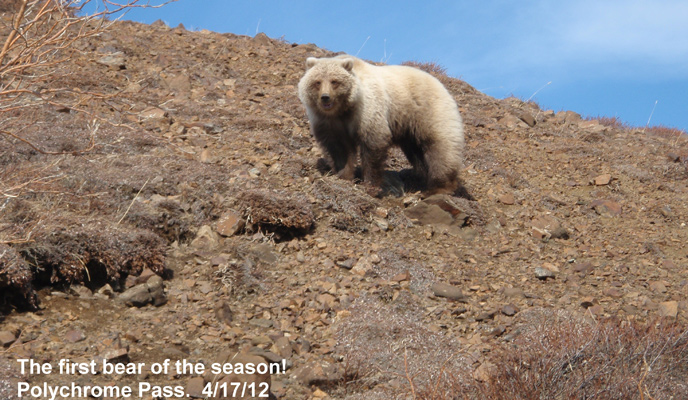 Source:
NPS
I think I can make it to Polychrome from Teklanika in a few hours ride without totally wearing myself out, so I might try for it next weekend.